Pampas grass makes a great decorative statement to any occasion. It can also be a superb accessory for a Boho chic interior design.
Keep on reading to find out how to put rustic and modern styles together with this plant.
What is Pampas Grass?
Pampas grass is a type of perennial that comes from Chile, Brazil, and Argentina. As known as Cortaderia selloana, this plant is renowned for its height.
When the grass is mature, it can reach 6 feet wide and 10 feet tall.
This perennial grass produces silvery-white plumes rising a few feet above the foliage in late summer, which creates a bold and dramatic landscape.
The grass is not only great for your backyard landscaping, but it can also make an exquisite focal point in a living room, bedroom, or even wedding party.
It is because this plant provides subtle color and textural elements to the space.
Hardy pampas grass grows well in zone 8 and it thrives best in full sun. If it is not possible, allowing it to have direct sunlight for a half of the day will do in a pinch.
This type of grass is not fussy when it is established. It is even drought and deer tolerant, does not have lots of pest infestations.
Even better, it can put up with salt spray, which makes it a perfect part of coastal landscapes.
If you do not know how to grow pampas grass because you do not have a green thumb, do not worry!
You can find this plant in the nursery trade easily. Once you get it, you can explore your imagination and creativity to create some sort of beauty.
Pampas Grass Décor Ideas
When arranged thoroughly and properly, this variety can perk up any space. Here are some decor ideas using this perennial plant that you can adopt.
Pampas Grass Wreath
Jazz up your festive mood by hanging this wreath. You can attach it on the front door to welcome your guests.
Besides, simply mount it over the headboard in your bedroom.
Making this wreath is merely a breeze. Begin with gathering and cutting your grass. Ensure you do not cut the entire length.
You can know whether you have trimmed it to the proper size by weaving it in the wreath base. If it fits, you can continue trimming.
Once you have cut all the grass to length, you can add glue to each of the pieces and quickly slide them into the wreath base one by one.
To get a uniform look, slide them in the same direction. Finally, you can hang your wreath using a simple hook.
Once your wreath is on the hook, spritz it with hairspray to maintain the natural fiber.
Pampas Grass Chandelier
Are you looking for extraordinary inspiration for your wedding? Try this pampas grass swinging decoration.
Actually, it is not as complicated as it looks. You can even make it yourself.
First, get 2'x4' chicken wire. Then, roll it four times to create a loose cylindrical shape. Trim any excess using clippers if necessary.
Next, grab four small self-adhesive hooks and adhere them to the ceiling.
After that, use clear wire or string to hang the cylindrical frame. Finally, add as many grass stems as you please to create the design you want.
Pampas Grass Wedding Décor
This one is another worth-trying décor idea for your wedding. It looks like a beautiful big crescent in the charm of Boho style.
Instead of filling the crescent form with this plant only, you can take this idea to the next level.
Likewise, add several dried plants, fresh flowers, and other foliage to create a more mesmerizing look.
This decoration, for example, is the combination of grass, dried palm fan leaves, white roses, and several foliage.
The use of a neutral color palette creates a perfect minimalist look. To accentuate its beauty, hang white curtains behind the crescent.
You can also add several candles in clear jars or glasses along with some white flower petals to create a more dramatic look.
Keep It Simple
If you look for something simple to embellish your living room, opt for this type of grass. It offers subtle beige color hues that will be perfect for your minimalist style.
When used as a home decoration, pampas grass is extremely versatile. Display several stems or mix it with other varieties to create a bouquet.
Also, choose an appropriate vase to house your grass.
If the container features a distinctive design, you might need to consider keeping things down to a minimum by displaying this perennial plant only.
Pampas Grass Pergola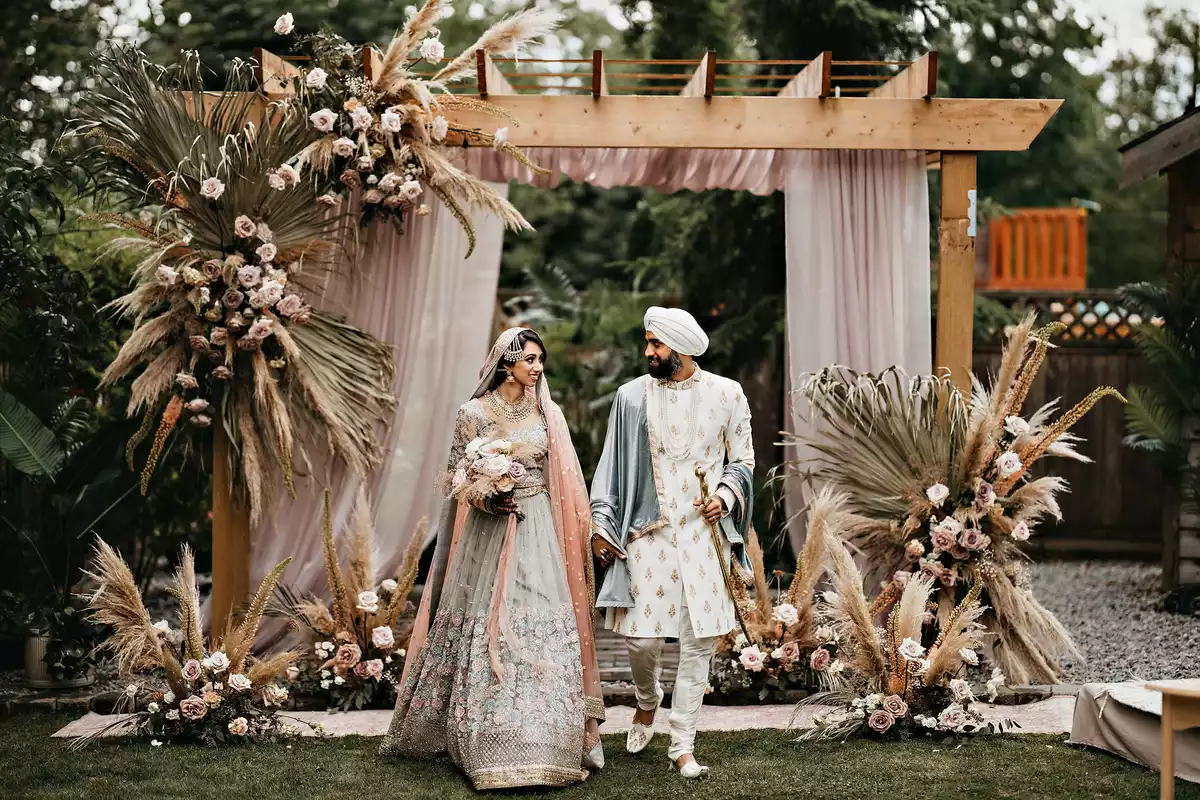 A combination of a pergola, drapes, and some natural beauty can create a perfect backdrop for a couple who is going to exchange marriage vows.
That would be an epic moment that will last forever.
To make the striking backdrop, you will need a pergola, sheer curtains or drapes, and several dried plants, including this type of grass.
You will also require a bunch of creativity and elbow grease.
Artificial Décor
If you cannot find the real pampas grass, you can use the artificial one. It will do in a pinch.
Artificial grass comes in a wide array of colors and textures.
Although the plant is not real, it can still infuse some beauty to the space, just like this pink flower bouquet.
This artificial flower bouquet is a perfect choice for those who want to embellish any room without the hassle.
Since it is not real, you do not need to worry about applying certain treatments to preserve its beauty because it will last forever.
A Beautiful Archway
When you arrange your wedding party or anniversary, do not forget to put a photo booth on your list.
It might be in the form of this jaw-dropping archway. You just need to wrap the grass around the archway until you cover it completely.
Then, add some beautiful flowers and foliage on top to make it look more dramatic.
Colorful Pampas Grass
If you are bored with the beige hues of pampas grass, you can dye it so that you can get the color you like.
The dyeing process is not complicated at all. You just need to cut the grass to get as many stems as you want.
However, you should be careful when trimming them because they can be sharp as a razor.
Once you get the stems you want, hang them upside down for about two weeks or to dry them.
After that, mix RIT dye of your choice with some hot water in a tub. Then, add the grass into the mixture.
You might also need a long spoon to help it sink.
Let the grass sit in the dye for a quarter hour. Then hang the stems upside down again to dry them.
You can also use your hairdryer and hair spray to make them look fluffy.
Wall Décor Idea for the Minimalist Style
Who says that this type of grass is only for Bohemian style? It turns out that it can be an impressive embellishment for a minimalist interior design.
Have you ever heard anything about preserving your favorite plants by pressing them and displaying them in a frame?
You can also try this pampas grass decor idea for your minimalist home. As a result, you can get a sleek and modern look.
Pampas Grass Christmas Tree
A Christmas tree does not mean to be a pine tree. You can also make it from some stems of pampas grass, which is awesome!
To make this Christmas tree, you just need to attach the stems to the base form. After that, decorate it with string lights and other accessories.
Pruning Pampas Grass
After learning about how versatile it is when it comes to home decorations, you might begin to think about growing pampas grass in your yard.
It would be a great idea because it is one of the best low-maintenance plants. Still, you need to know how to prune it.
You need to prune this plant annually. By doing this, you can remove the previous year's foliage while helping it promote new growth.
Thus, late winter is the best time to cut it back because the new growing season is coming.
The foliage is somewhat tough and sharp. Therefore, you have to wear a long-sleeve shirt, long pants, and leather gloves to protect yourself when pruning.
Since the foliage is tough, you will need to use proper tools like chainsaw or long-handled loppers while pruning it.
These tools will help you cut it much better and easier than using common hedge pruners or electric shears.
Once you have pruned the grass, apply a handful of 8-8-8 fertilizer around it to encourage new growth.
You can also use 10-10-10 fertilizer, instead. It will work like a charm as well.
Pampas grass is indeed mesmerizing. It is simple yet beautiful, and attractive on its way when it comes to decorating space.