Gladiolus arrangement ideas are creations that never die. This flower of August has various types and colors that will enliven any moment.
For centuries, floral arrangements with gladiolus have been a part of people's lives. This native South African region has also been well-known in the whole world.
Getting to Know Gladiolus: The Flower of August
Gladiolus is a plant from the lily group that can reach 4 meters in length. This plant from the Iridaceae family comes from South Africa and has spread since 2000 years ago.
Gladiolus was new to mainland Europe around 1730 and flourished in the Netherlands. There, gladioli flower arrangements are remarkable and fit in various events.
Symbolization
This flower is also deep in meaning. Gladiolus's name comes from Latin, which means small sword, following its elongated shape.
Besides, this flower has a different name in Greece, namely Xiphium. However, if studied, this name also has the same meaning, a sword.
Gladiolus is also a symbol for people born in August because this flower blooms at that time. Furthermore, it symbolizes sincerity, generosity, memory, and a firm stand.
Types of Gladiolus Flowers
You can find beautiful varieties that support gladiolus arrangement ideas. The following are the most popular in the community.
A long stalk variety is Gladiolus ramosus. It is about 100-300 cm.
Gandavensis has a large size and length of about 90-150, with flowers arranged overlapping.
Gladiolus primulinus is the opposite of Gandavensis. It is small in size with a stalk length of about 90 cm. However, it is strong and more durable.
Gladiolus Nanus has a curved stem of 35 cm.
In addition to the types above, Gladiolus hybridus, Murielle, Italicus, Illyricus, Tristis, and Scarlet are also quite popularly used to brighten up any moment.
Gladiolus Arrangement Ideas
Based on the introduction above, now you know how special this flower is. With attractive colors, you can make them decorations for various events.
Moreover, there are many ways to turn every single flower into a masterpiece. Here are some gladiolus arrangement ideas that you can consider.
White Gladiolus for Modern Room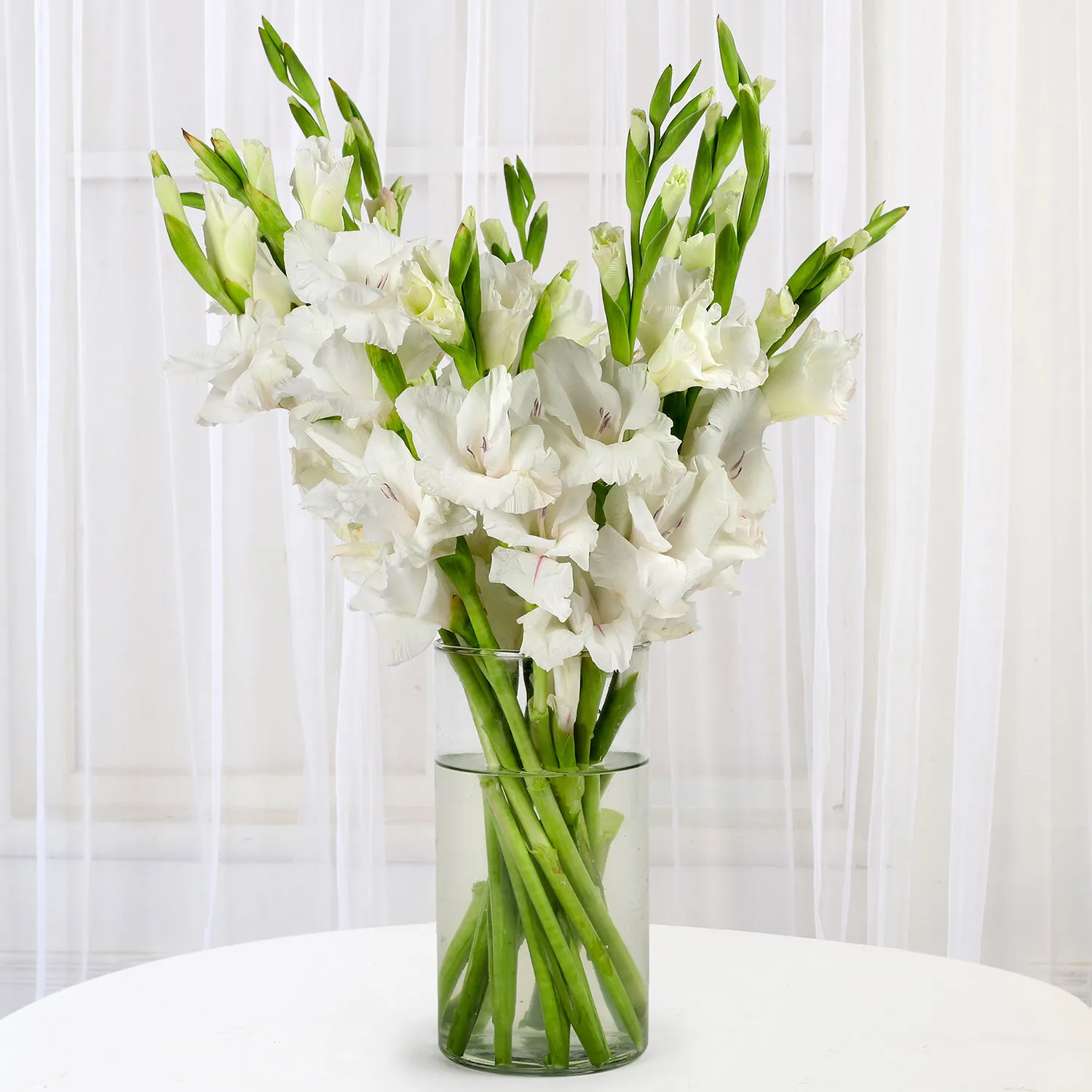 When relaxing in your own space, sometimes all you need to see is its simplicity. It does not need to be flashy because you need a sense of peace.
Thus, why not make it happen with gladiolus arrangement ideas?
You don't need an effort. The only step is placing a floral arrangement with gladiolus in one corner of the room.
Therefore, enough with a minimal design, you can get a classy appearance.
Luxurious Farmhouse Gladiolus Arrangement Ideas
Wherever you are, a gladiolus always gives the impression of luxury. You can even apply this flower in a natural farmhouse concept and uphold the countryside theme.
Above, you can see an impressive mix of baskets, flowers, and a wooden background. Hence, this design is perfect for weddings, garden parties, or yard decorations.
The Red Gladioli Flower Arrangements
Floral arrangements with gladiolus will always impress. But if the white flowers seem too bridal, you can try other colors as decorations. Red, for example.
This color will be suitable for any atmosphere, from formal events, meetings, romantic dates, and even room decoration.
Additionally, with a bright red color, all attention will be on it.
Rose and Lily Companion
Blending gladiolus is a great idea. There are several choices of bloomers that will be the best friends for this flower of August, such as rose and lily.
The combination of the three flowers will look impressive for various pickles. Then, you can enhance the look with a beautiful vase or add a touch of green.
Colorful Arrangement for Altar
Gladiolus is suitable for use on various occasions. The arrangement will even make a sweet impression at the wedding moment.
Just look at the picture above. Gladioli flower arrangements look sweet with a blend of hydrangeas and roses.
Further, sharp colors make the atmosphere lively.
A Funeral Arrangement
Apart from being a symbol for happy events, some people also use it to express grief. No wonder some countries have a tradition of placing it at funerals.
Gladioli flower arrangements for funerals usually involve dark colors, such as purple or dark red.
Also, combine it with white or other matching colors.
Summer Floral Arrangement with Gladiolus
Because it has a variety of colors, you can combine almost any flower with gladiolus. It will even look beautiful with summer plants, including sunflowers.
For instance, the picture above is a combination of various gladiolus flowers that have many colors.
In addition, you can use a unique and beautiful vase, then place it as a decoration.
An Artistic Bouquet
For special occasions, you can make a beautiful bouquet with the help of gladiolus. Mixing with other flowers will also help liven up the atmosphere.
Above, the august flower blends perfectly with orchids, roses, and some decorative leaves. You can create other gladiolus arrangement ideas that match or are prettier.
Gladiolus Arrangement Ideas to Say Congratulations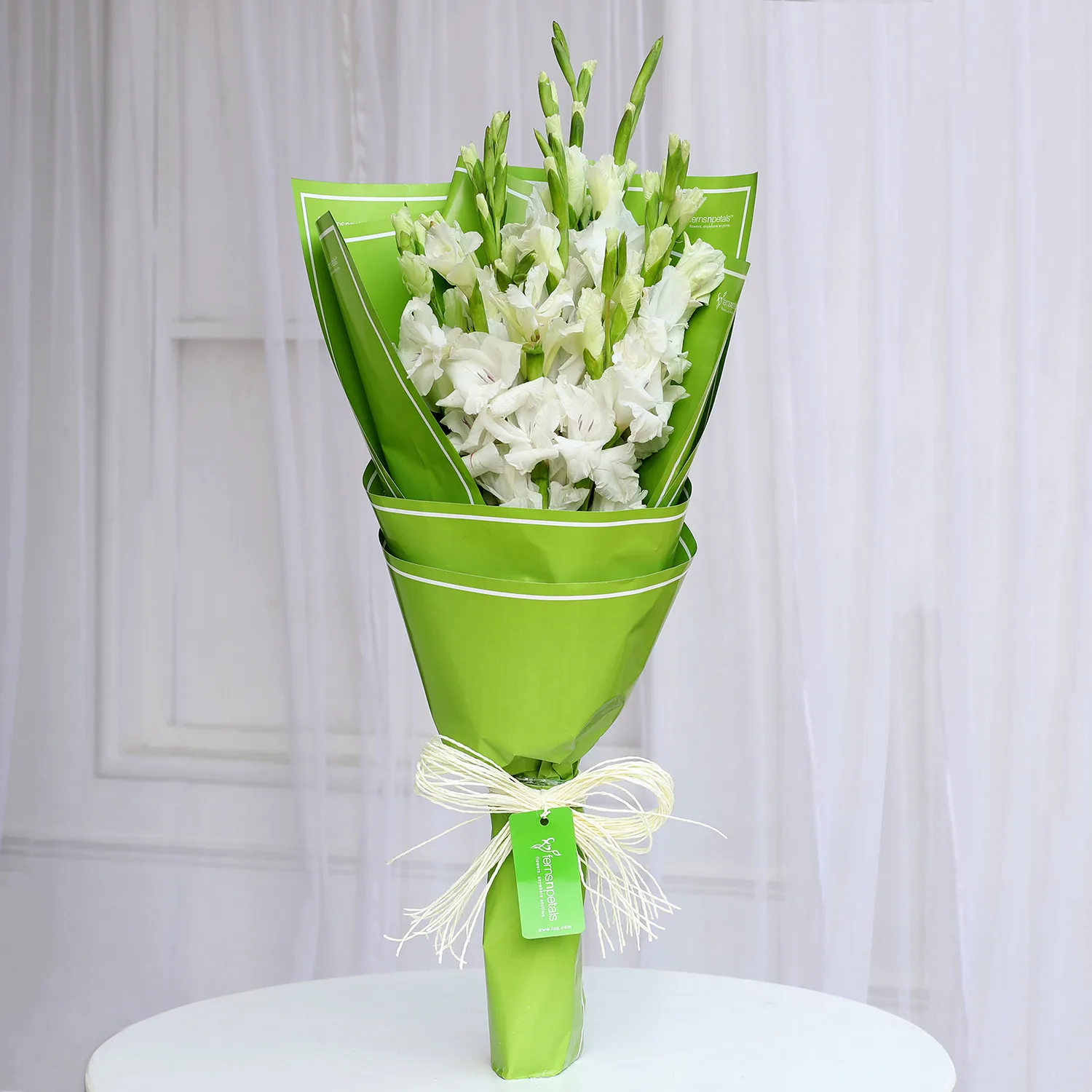 There is always a way to convey happiness to others. When friends, family, or close people celebrate something, why not give them a pack of gladiolus?
You can make it a simple but attractive bucket, with the color he likes. It is simple, but believe me, anyone will feel flattered.
An Indoor Garden
On some occasions, this flower can also be a floor decoration material. This plant is tall enough for a standing arrangement.
Besides, it features a framework that provides space for other flowers.
You can see how the gladiolus stands while other beautiful flowers flaunt around them. Hence, a beautiful setting will impress anyone with your event.
Just Put In On
Because of its sword-like shape, this flower is easy to arrange into various decorations. The appearance will look beautiful, even when you place it on a plane.
On several occasions, people attach a few other flowers in addition, then place the gladiolus on a table, car, or any location that needs decoration.
Let's Say Happy Wedding!
A wedding is an extraordinary moment in one's life. Therefore, you should also use the best flowers to celebrate the moment.
Some gladiolus arrangement ideas also apply to flower bouquets. Whether you use other flowers as a sweetener or take it as a single bloomer, everything will look perfect.
Green Gladiolus Arrangement Ideas
There are various colors of gladiolus, and one of them is green. Although similar to leaves, its unique beauty also impresses many people.
Green gladiolus can be an attractive decoration in various environmental-themed or formal events.
Furthermore, you can mix it with other plants of the same color as the desired purpose and theme.
The Smart Way to Look Tropical
Bright colors can liven up the atmosphere. Because gladiolus has a large selection of tones, you can make it a decoration for various moments.
The cheerful and colorful atmosphere is evident in the gladiolus arrangement ideas above.
Likewise, striking colors, such as yellow and purple, are reminiscent of a seductive and relaxing tropical atmosphere.
Gladiolus on Standing Basket
The structure, which reminds us of a sword, does provide many advantages. You can easily place it on a basketball stand, along with other pretty flowers.
These gladiolus arrangement ideas are perfect for events ranging from weddings, birthdays, graduations, or just welcoming guests.
Additionally, with vibrant colors, you will make everyone feel comfortable and flattered.
A Color Combination
All gladioli have their charm. By combining all the colors, you will see an unspeakable beauty.
Hence, you do not need any complicated arrangements. Just mix a few colors as you wish, then place them in a vase.
Moreover, you can give a beautiful feel anywhere, both indoor and outdoor.
The Waterfall Gladiolus Arrangement Ideas
The waterfall concept with some hanging parts is generally suitable for traditional events, weddings, and other super formal events.
Also, you can use gladiolus to enhance the atmosphere.
Gladiolus will soar and make flower arrangements more attractive. Further, use a variety of colors to display both natural and angelic concepts.
The Gladiolus Buds
Gladiolus flowers are beautiful when they bloom. But you can still enjoy its beauty since it was still a bud.
The natural green color will give the impression of peace to anyone.
To beautify the floral arrangement with gladiolus, you can combine it with other colors or flowers that are still in tune with it.
A Bush of Flowers
In addition to displaying it when it's still in bud, you can also give a beautiful atmosphere to the room with the fully-bloom flowers.
Given that it has various colors, you can choose according to your needs. You can use the best gladiolus arrangement ideas to impress everyone.
For example, white is the most appropriate color to give a minimalist yet elegant impression. Meanwhile, pink will provide a romantic atmosphere, and purple is generally for funerals.
A Perfect Gift
To impress others, you have to give something gorgeous. Why not use gladiolus arrangement ideas?
Besides arranging them beautifully, you can also insert beautiful greeting cards and vases. Use your best images to create a masterpiece that she will love.
Conclusion
In the above review, you already know the types of gladiolus that are suitable for decoration. These colors and types have been popular as plants that must be present in events.
Because of the many types, you can also apply a variety of beautiful and impressive gladiolus arrangement ideas.
In addition to the ideas above, you can also develop your creations.